In the classic Seinfeld episode "The Comeback," Elaine Benes feels stifled because her favorite video store undergoes change.1 During the episode, she grows to appreciate the perspective and services provided by Vincent, a video store employee with whom she shares the same taste in movies. When Elaine learns that Vincent has decided to "stop making picks," she naturally struggles emotionally upon losing the connection once felt.
I think Elaine's relationship with Vincent and the video store is fascinating, and parallels the relationship many school patrons create with us and the schools in which we work, live, and grow. In a typical setting, we provide (educational) services in such a way that others come to know and love our style, and therefore, greatly value the community and the resulting relationships that consequently develop; often, perhaps, as much as or more than they love the services we provide.
Relationships matter, and great schools are great because they cultivate strong relationships. Moreover, great schools are great because participation in them results in strong, long-lasting relationships, grounded in loyalty. Right?!
Well, maybe.
Last night a tweet came across my feed that shook me to the core, while reminding me that traditional institutions have no guarantee of future success. It reminded me that while face to face relationships may be important, other commodities – like convenience – may be more valued, under certain circumstances.
Tweet #1: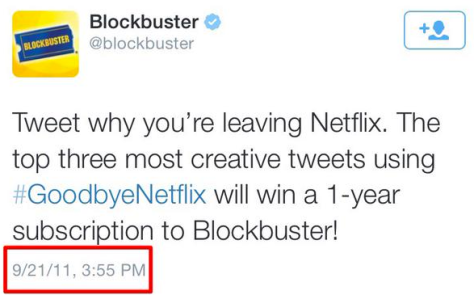 Tweet #2: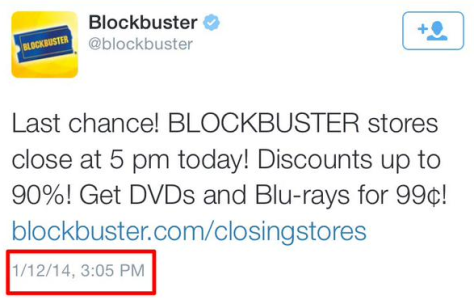 In addition to feeling nostalgic for the favorite video stores I often visited as a kid, when I processed the message sent in that simple tweet, I also wondered about the schools we love today. Will our schools still exist decades down the road? Does institutional loyalty even matter? Is a face-to-face, human connection always needed?
Have you ever wished Netflix offered an in-person "Vincent," with whom you might better relate, or trust?
Me, neither. And yet "Vincent," and the thousands of employees just like him, lie at the heart of what once made Blockbuster so overwhelmingly great.
For the last nine months I've had the privilege of leading Canyons Virtual High School (CVHS): our District's online learning program, created in response to Utah's 2011 Senate Bill 65. In four short years, CVHS has grown from having zero students in 2011 to serving over 2,400 unique students in 2014-15. This growth has come without gimmicks, without marketing beyond simple word-of-mouth, and without requiring students to participate. In other words, in four short years, our virtual school has grown from serving zero students, to now serving one in every five of our traditional high school students, for at least one of the courses they might take.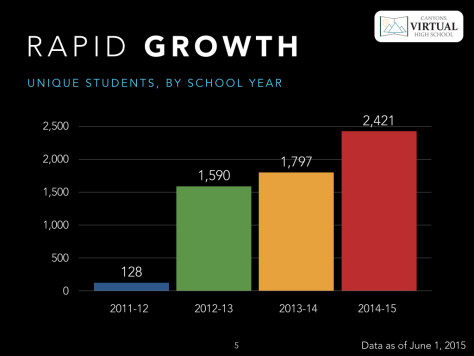 Now, I don't know what the future will bring for CVHS or the other schools in our District and across the country; but I do know that people today demand convenience! I've also learned that anytime/anywhere access to entertainment and to learning appears to be a key factor underlying success. In the case of both CVHS and Netflix, relationships matter; but convenience has mattered so much more.
So, what's your take? What will your school need to do to keep from getting Blockbustered? Has online learning changed the way your students succeed?
Kids: video stores existed back in the olden days, way back when your parents were young, and "streaming" had something to do with water. ↩
Read More...