Yep, I did it.
I packed up my things and decided to move – from Blogger to WordPress – and I have to admit, I really like the new view. I've used WordPress before; back when I was setting up department websites  at Brighton High School in 2005. Those were pre-iPhone days. Let's just say WordPress has come a looong way since then. And so have many other things.
Here's the process I followed to make the move:
Decide to move. This step took the longest. Blogger's weak trackback/pingback support sealed the deal.
Purchase hosting.
Purchase a domain name. I'd held out until now because I honestly didn't know which name to select. I didn't want .com because I intend to keep this site ad-free. I didn't want .org because I'm not an org – I'm just me. And so I landed on drapestak.es. A little weird, I know, but a lot easier to type.
Install WordPress, install a theme, configure.
Tweak disqus. It's still a little buggy, but I knew that going in.
Delete my practice posts and comments. Write this "first" post.
Write my final post for http://drapestakes.blogspot.com/.
Update my Feedburner configuration to this new address.
Publish this post, welcoming you here!
I hope you'll enjoy yourself while we learn together. I've appreciated all the help and learning my seven readers have provided in the past. Let's keep the streak rolling strong!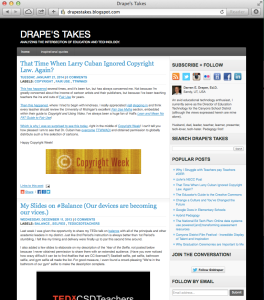 Peace.
Read More...